A Revolution in Histopathology Dissection
MEET THE eGROSS pro-X
THE STATE-OF-THE-ART TOOL SYSTEM FOR GROSS TISSUE DISSECTION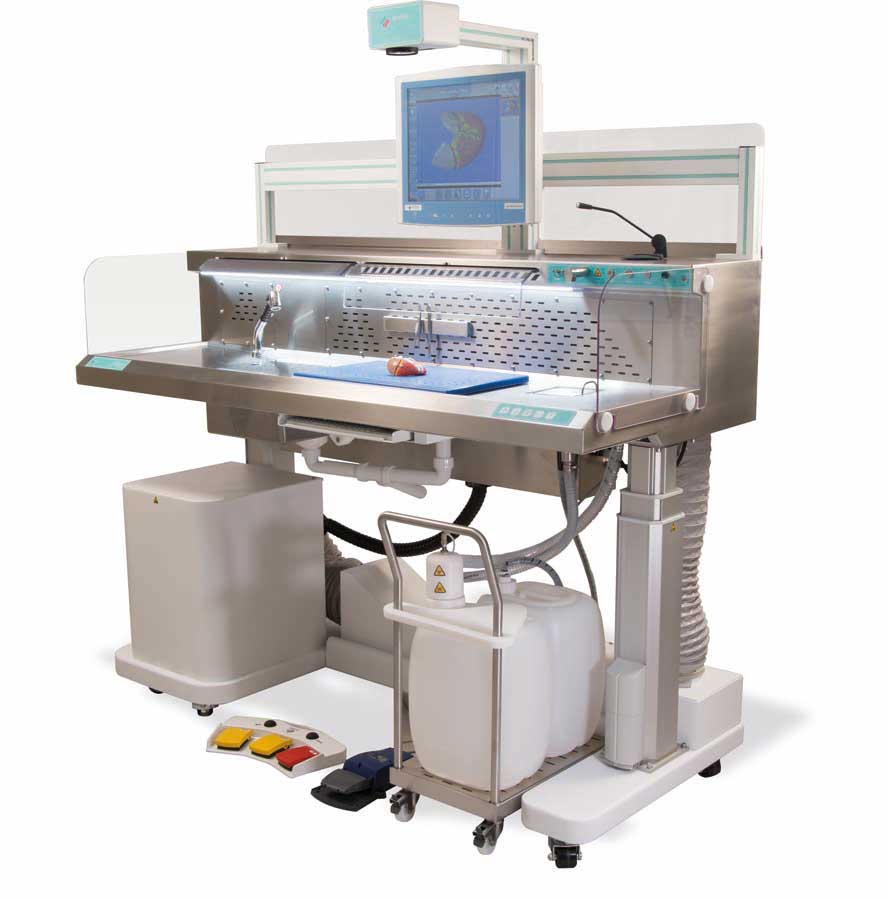 This all-in-one grossing workstation has been specifically designed to integrate state of the art tools and standardization into a 21st century system for the dissection of gross tissues. Some of its features include:
an enhanced process documentation
safety
flexibility
cost-effectiveness
The eGROSS pro-x is the first to incorporate the digital power of specimen identification and the dissection documentation, creating a standardized, image documenting protocol. It can create a custody chain that assures quality at the source of tissue selection and cassette generation from the gross room throughout histology to the pathologist's desk. The eGROSS captures digital documentation enabling innovative laboratories to seek not only high quality but also work simplification and standardization in pursuit of the "virtual" and dictation-less lean laboratory operations.
DOCUMENTATION AND QUALITY ASSURANCE? NO PROBLEM!
The The MacroPATH pro-x, integrated with the eGROSS pro-x, is a user-oriented capture and storage system for macro digital images of patient specimens. It dramatically reduces specimen turnaround time at the grossing station compared to the conventional shoot and capture of handheld systems. Autofocus, auto-light adjustment, and hands-free operations, through a foot pedal, enable users to concentrate on the patient's case without manual intervention.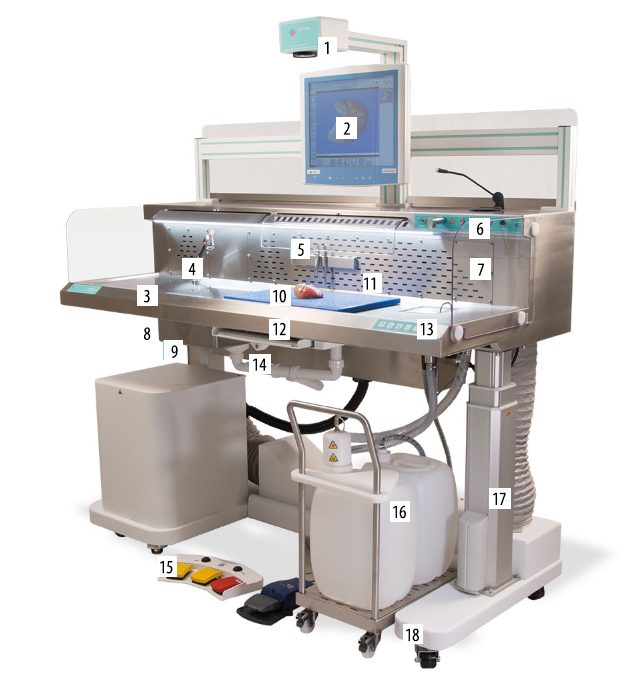 All the exclusive features of the eGROSS
1. MacroPATH pro-x macro digital imaging system for automatic, rapid documentation of all the grossing steps of surgical pathology specimens.
2. Point-of-care control terminal, 17" touch screen.
3. Corrosion resistant stainless steel (AISI 304) structure and work surfaces.
4. Large sink of 40x34x18 cm (15.7''x13.4''x7.1'') dimensions with a filter and a shower type water faucet.
5. Store frequently used tools close-at-hand on the integrated magnetic bar.
6. Display panels: exhaust flow alarm and control, level of formalin in tanks. Continuous exhaust airflow monitoring, with a feedback light indicator.
7. EXCLUSIVE! Anti-splash transparent slide out covers. Lateral transparent containment boards.
8. Connectivity: • Network ready • LIS compatible • Remote viewing enabled
9. Easy installation. No structural modifications required. Power (a), water (b) and exhaust (c) connections readily available.
10. A large working area of 50×40 cm (19.7''x15.7'') dimensions with a cutting board on special supports allows unrestricted downdraft flow.
11. High power exhaust system with backdraft and downdraft. It also includes a specimen safety steel mesh filter.
12. Slide-out waterproof keyboard with a built-in mouse (IP68).
13. An all-in-one control panel places major functions within easy reach.
14. EXCLUSIVE! A unique proximity switch detects the presence of the operator. In case of an absence of over 5 minutes, the unit automatically switches off to extend filter life.
15. A foot pedal control enables handsfree manipulation of major camera functions (zoom-in/out, save, record).
16. Twin tanks (up to 10 liters-2 gallon each) with safety valves, store fresh and exhausted formalin.
17. Easily adjust the eGROSS pro-x working height to accommodate standing or sitting. The unit can be positioned from its lowest setting of 90 cm (38.6") to the highest at 120 cm (47.2"), and anywhere in between.
18. Mobility through heavy duty casters
DISCOVER PRODUCT INNOVATIONS
Today, Milestone is proud to offer innovative solutions in six different fields: Pre-Analytical, Tissue Processing, Frozen Section, Digital Systems, Cytology and green Reagents. All products aim to Help Patients and to create a better laboratory environment for the medical staff of both the Anatomical Pathology and Surgical rooms.
Milestone's skilled group of professionals studies every new project, from the drawings to the final prototype, getting to the final stage in which the operating units are ready for the labs.
Want More?
Sign up for the GSS Resources Newsletter, an eNewsletter that delivers new technology and news, straight to your inbox.
Government Scientific Source (GSS) is the leading dedicated distributor of laboratory products and equipment to federal, state, and local governments.
ISO 9001:2015 Certified
Copyright 2020, Government Scientific Source. All Rights Reserved.
SUBSCRIBE
to our newsletter to stay in touch with our latest deals
|