Introducing Fully Customizable Laboratory Workstations, Furniture & Chairs from GSS!
Government Scientific Source is Excited to Announce Our Partnership with Laboratory Builders, Inc.
Kick off the new year right with the customized lab solutions you need, when you want them.
And with our INSTOCK Quick Delivery Lab Furnishings Program, you can have them fast!
Our highly-trained teams of furniture specialists, lab designers, and project managers have years of experience and are ready to guide you through the entire process of your lab renovation, or new lab project in clear, easy-to-understand communication.
What's Important for Designing a Lab Space
Designing a productive lab space can be an overwhelming process.  Your timeline could be a few weeks to as much as a few years. The project might involve the renovation of an old lab or building a new one. Your GSS furniture specialist can help simplify this process and navigate normal project pitfalls. The following information provides a brief overview of this important undertaking.
Assemble the right team
The team should consist of the people who understand all the elements of the project, from the fundamental design to how it will suit the current and future objectives.  The team will be responsible for establishing budgets and developing schedules.  The team members should include people from facilities operations and management, the health and safety officer, laboratory management, individuals that will be using the space and one of our Furniture Specialists.  Every team needs a captain.  The captain's role is to document details, developments, changes, and keep the project on the right track.
Understand the space being considered
Survey the area being considered for the laboratory. Think of the overall amount of space that will be required for the people, process and equipment that will occupy the lab. Check to make sure that all the necessary utility services, sanitary or chemical drains are available.  Do you require fume hoods?  If so, make sure that you review the exit route for ducting. Your Furniture Specialist can help make sure you have all the necessary considerations handled.
Select a Casework Layout
Select a casework layout that best suits your space and complies with established safety guidelines. Our knowledgeable team is available to help generate some sample layouts. These layouts will be the foundation for capturing your project scope and then used to create the final lab drawings which will be completed and shared with the entire project team.
Outfitting Your Lab
Make a list of all the components your lab will need. Remember to include cabinets, countertops, fixtures, fume hoods, bench top equipment, refrigerators, seating, water systems and more. Your GSS Sales Representative can assist you in outfitting your new space with everything your lab will need.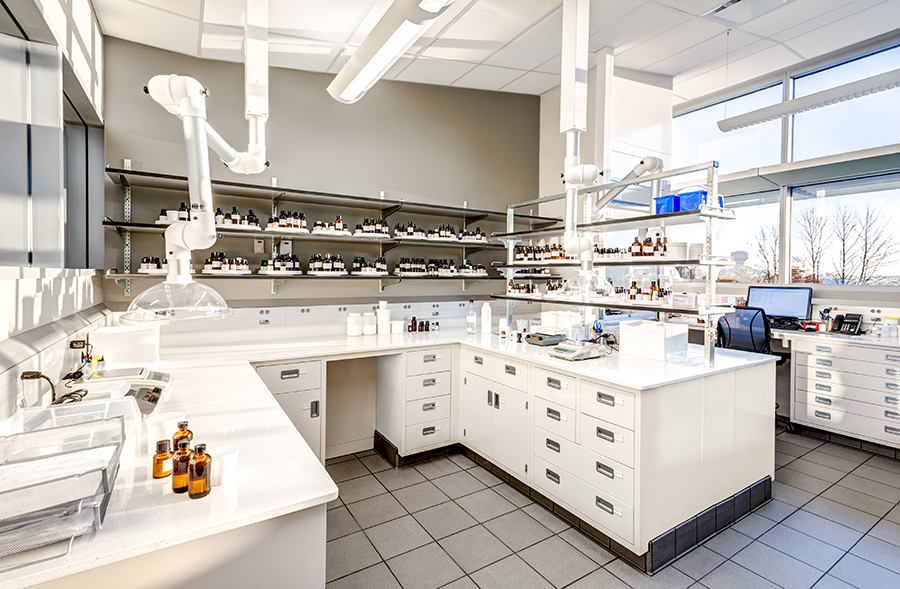 Laboratory Layout & Design Considerations
Below is a basic set of considerations for general laboratory layout and design that is helpful in reviewing the needs and requirements for most laboratories. This information will form a strong foundation for the interaction with our lab design team on the layout of furnishings for your lab.
Determine the general purpose of each lab, support or workspace
Number of people

Amount of bench required per person or per operation

Number of fume hoods or biological safety cabinets needed
2. Confirm the rough lab spaces & sizes needed and their                       locations within the building
Review service runs required
3. Engage your Environmental Health & Safety person as well as        Facilities Operations & Maintenance for input
4. Develop a lab equipment listing reflecting the sizes of each            piece, service requirements and respective heat loss
Confirm if the equipment will fit on the bench or floor. Consider your future operations.

All equipment should be placed into a plan view drawing to confirm it

Review overall voltages and total amperage needed for the project

Review venting requirements, data connections, and any ancillary equipment needed
5. Examine the proposed lab layout & workflow
Confirm that the lab will fit the process
6. Review the need for flexible or open lab space in the lab layout
    & consider future needs
7. From a historical perspective, review what's working and not        working in the current lab
8. Review specific needs within the lab for radioactive or                      biological materials, hazardous operations, and ADA                          compliance
9. Confirm the need for ancillary lab space or other space that             makes the rest of the lab work more efficiently:
Sample receiving

Work in process

Glass wash/prep areas

Equipment support space

Offices or desk spaces
10. Examine lab storage needs for supplies, glassware, chemicals,         samples, and receiving
11. Review hood selection and distribution in the lab
Size to safely fit the purpose

Provide access for people, equipment, & process

Confirm plumbed and wired service needs

Confirm the HVAC requirements and the need for both supply and exhaust air systems
12. Confirm the effective separation of lab areas:
Lab and Office

Higher and lower areas of hazard or chemical use

Sinks & electronics

Safety showers & electronics

Centrifuges and balances
13. Review lab lighting & orientation for effective illumination of         the workspaces
14. For sinks, review location, size, purpose & services needed
15. Confirm locations for: coat racks, safety glasses, gloves,
shoe covers, tack mats
16. Confirm the placement of all safety fixtures and equipment             including eyewashes, safety showers, and fire blankets.
GSS provides in-depth planning for every lab type and has an extensive inventory of top-quality furniture and components. We offer comprehensive and expert project supervision from initial planning through final installation of your project.
Our INSTOCK Quick Ship program is ready when you are. The program offers an extensive selection of lab furnishings and is designed to ship complete laboratories within 10 days, increasing your time working instead of waiting.
Want More?
Sign up for the GSS Resources Newsletter, an eNewsletter that delivers new technology and news, straight to your inbox.
Government Scientific Source (GSS) is the leading dedicated distributor of laboratory products and equipment to federal, state, and local governments.
ISO 9001:2015 Certified
Copyright 2020, Government Scientific Source. All Rights Reserved.
SUBSCRIBE
to our newsletter to stay in touch with our latest deals
|