Make Your Transition to Automation Simple
Move Forward with Eppendorf's epMotion® Liquid Handler
Next Generation Sequencing (NGS) workflows involve laboratory methods such as DNA/RNA extraction and library preparation which can be labor-intensive and require attention to detail. In library preparation, magnetic bead cleanups are used in many steps to remove any unwanted contaminants such as salts, primer dimers, and dNTPS. To ensure limited sample loss when removing the supernatant from the pelleted DNA bound to the beads, pipetting accuracy is key. Automation is a great solution that can increase sample recovery and reduce variability generating a high-quality library for sequencing.
Automation can deliver trusted results with pipetting accuracy and precision for your application needs allowing you to focus on your research. For routine tasks such as PCR set-up, normalization, bead clean-ups, nucleic acid purification and library preparation, the epMotion® workstation is a great choice. With multiple formats available from a semi-automated 96 multichannel to fully automated platform epMotion® 5075, the epMotion® liquid handler can meet your workflow requirements.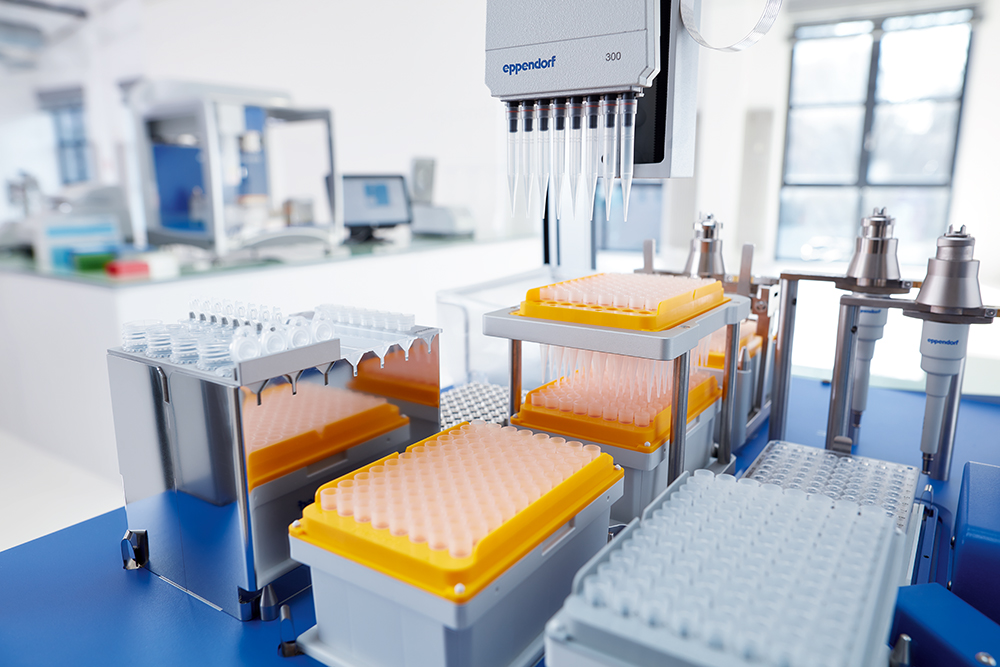 Trusted pipetting accuracy and precision from 200 nL to 1000 µL
User-friendly step by step programming with epBlue™– No software experience necessary
Safe and reliable using an optical sensor for labware and liquid verification
Automatic switching of pipetting tools – 1 channel and 8 channel
Wide variety of accessories to adapt to your workflow – Tube racks, vacuum modules, height adapters and reservoir racks
CleanCap option with UV lamp for decontamination and HEPA filter for clean air inside. Optional for epMotion® 5073 & 5075 version
epMotion® Family Overview
The new epMotion® 96 is an easy to use bench top system for high precision pipetting in 96- and 384-well plates. It overcomes the limits of manual multichannel pipetting with its ergonomic design and intuitive controls. epMotion® 96 is a great tool for anyone who needs fast and precise liquid handling in 96- or 384-well formats.
Our smallest automated workstation of the epMotion® family is the most compact solution for accurate and reproducible automated pipetting. This makes the epMotion® 5070 a perfect match for any routine application such as serial dilutions, reagent distribution, sample transfer from tubes to plates, and sample normalization.
These automated pipetting systems are uniquely tailored for PCR setup, NGS library prep and nucleic acid purification, yet retain the flexibility that allows their use as open platforms for diverse automated liquid handling applications. They automate and simplify what are traditionally complex, labor intensive pipetting tasks, saving time and improving the reliability and reproducibility of results.
This epMotion® configuration is the ideal solution for diverse liquid handling demands. It offers the same outstanding accuracy and precision as epMotion® 5070 & 5073. The available options make the 5075 an excellent tool for applications such as next generation sequencing, real-time PCR set-up, magnetic bead based purification, cell based assays or any routine pipetting tasks.
epServices for Optimal Performance
The epMotion® and its dispensing tools are precision instruments. As such, they require regular maintenance, which help prevent failures and keep your processes moving forward. Regular calibration of the dispensing tools will ensure system accuracy, precision and reliability.
Want More?
Sign up for the GSS Resources Newsletter, an eNewsletter that delivers new technology and news, straight to your inbox.
Government Scientific Source (GSS) is the leading dedicated distributor of laboratory products and equipment to federal, state, and local governments.
ISO 9001:2015 Certified
Copyright 2020, Government Scientific Source. All Rights Reserved.
SUBSCRIBE
to our newsletter to stay in touch with our latest deals
|