Gain a New Perspective on Tissue Complexity With Simultaneous Gene and Protein Spatial Profiling
Spatial Gene Expression with Immunofluorescence
Visualize spatial patterns of gene expression together with protein detection by immunofluorescence on the same tissue section. Histological tools like in situ hybridization and immunohistochemistry or immunofluorescence alone are limited in the breadth of analysis they can perform. The Visium Spatial Gene Expression Solution with immunofluorescence enhances these techniques, letting you combine immunofluorescence protein detection and unbiased, spatial gene expression in the same tissue section alongside histological analysis. Localize rare cell subtypes in patient samples, characterize immune cell activation state, or resolve post-translational modifications and cell signaling in intact tissue, without sacrificing whole transcriptome data.
The combined Visium Spatial Gene Expression with Immunofluorescence workflow makes it easy to implement spatial transcriptomics technology into standard methods of tissue sectioning and immunofluorescence staining. The combined
workflow is simple, streamlined, and readily adoptable within existing lab infrastructure using your current immunofluorescence antibodies. Access multiple streams of information for a single sample with an integrated workflow, and gain the ability to define regions of interest after you have all the data, so as not to miss out on important or unexpected biological results.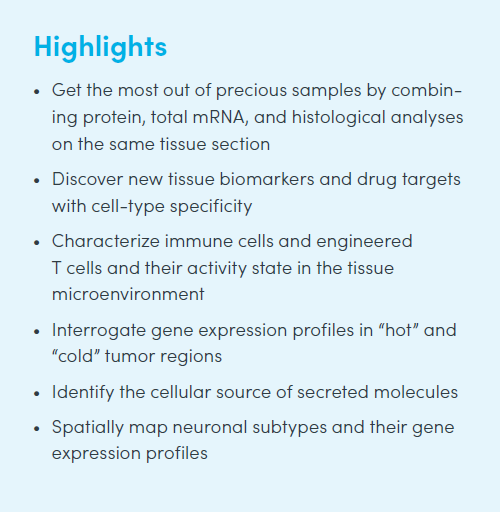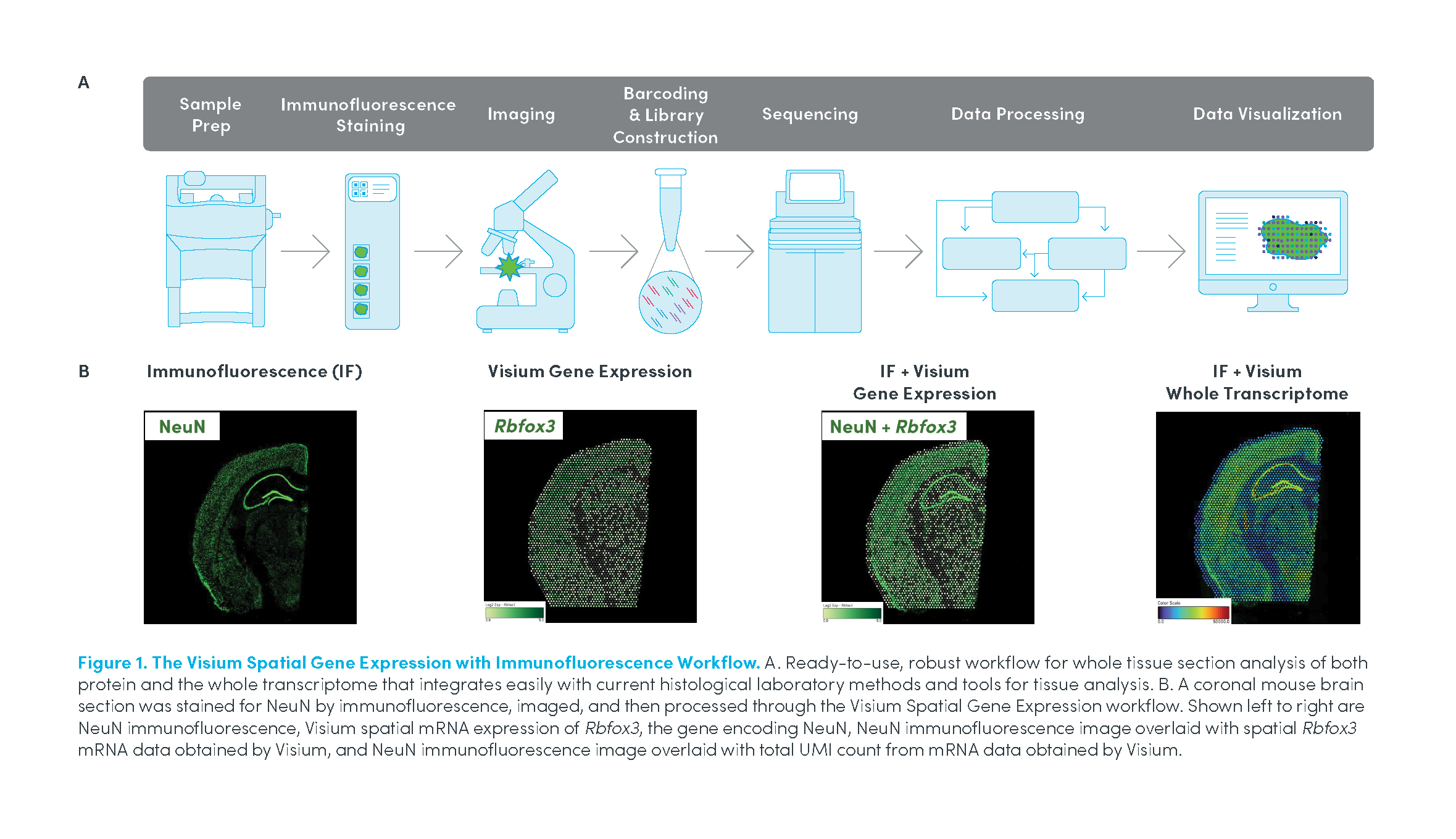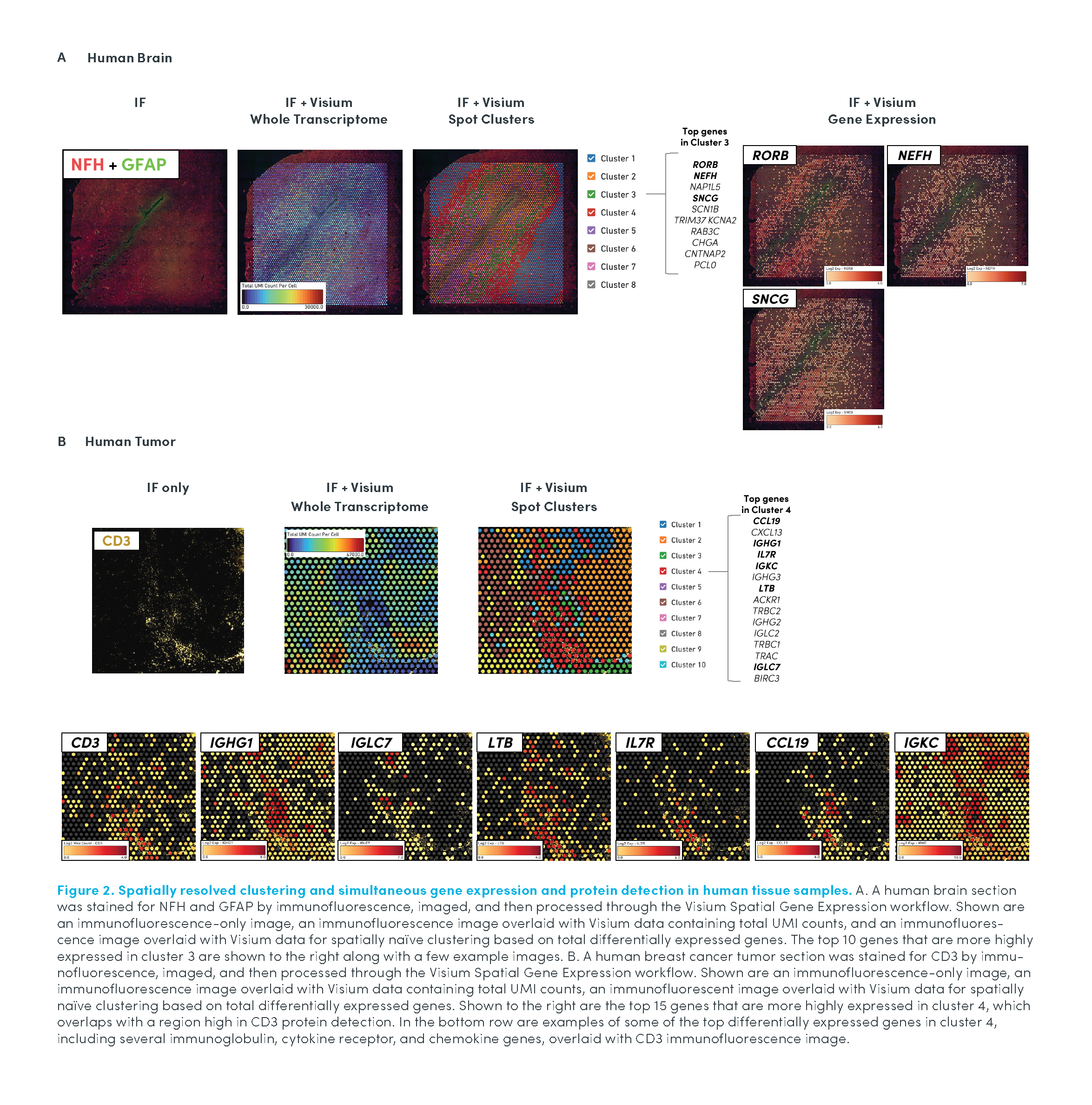 Research Areas
• Neuroscience
• Cancer Biology
• Immuno-oncology
• Immunology
• Clinical & Translational Research
• Pathology
Applications
• Cell-Type Determination
• Cellular Source of Secreted Proteins
• Immune Cell Activation State
• Engineered Cell Therapy Response
• Tumor Microenvironment Profiling
• Post-Translational Modifications
Want More?
Sign up for the GSS Resources Newsletter, an eNewsletter that delivers new technology and news, straight to your inbox.
Government Scientific Source (GSS) is the leading dedicated distributor of laboratory products and equipment to federal, state, and local governments.
ISO 9001:2015 Certified
Copyright 2020, Government Scientific Source. All Rights Reserved.
SUBSCRIBE
to our newsletter to stay in touch with our latest deals
|