Sera-Xtracta Virus/Pathogen Kit
Infectious diseases affect millions of people every year. Virulent and multi-drug resistant agents are increasingly responsible for infections with ever-expanding complexities. At the end of 2019, a novel coronavirus (SARS‑CoV‑2) was identified as the source of a pneumonia outbreak in Wuhan, China. The extraordinarily rapid spread of this disease, termed COVID-19, triggered numerous and urgent challenges to health systems, diagnostic laboratories, and basic research communities throughout the world. Demand for reproducible and fast pathogen nucleic acid extraction has been unprecedented and as a result has become a limiting factor for diagnostic laboratories and research institutions globally.
The Sera-Xtracta™ Virus/Pathogen Kit* (Fig 1) provides a simple and rapid method to optimize the workflow for sensitive detection of viruses and other pathogens found in low concentrations. The silica coated magnetic bead-based automatable kit can be used with a range of sample types including respiratory biological matrices, blood and universal transport media. Using non-carrier RNA based chemistry, the kit is designed for high-throughput selective binding of total nucleic acid isolation of DNA and RNA from bacteria and viruses, including: Adenovirus (Type 14), Influenza A (H3N2) and SARS‑CoV‑2 (COVID‑19). The isolation procedure illustrated in Figure 2 can be completed in less than 30 minutes for reproducible yields compatible with molecular biology techniques, including quantitative polymerase chain reaction (qPCR, RT-qPCR), droplet digital PCR (ddPCR), and next-generation sequencing (NGS) applications.
Samples from suspected cases of COVID-19 are typically taken by swab and stored in universal transport media (UTM) for stabilization and transport prior to testing. A reliable and efficient RNA extraction from universal transport media therefore constitutes a critical part of any molecular research and testing workflow. To meet this critical need Cytiva has developed Sera-Xtracta Virus/Pathogen Kit optimized for the isolation of nucleic acid from swab samples stored in PrimeStore™ MTM (FDA approved transport media, Longhorn Vaccines and Diagnostics LLC).
Fig 1. The Sera-Xtracta Virus/Pathogen Kit includes binding/lysis reagent, wash buffer, SeraSil-Mag™ beads and Proteinase K.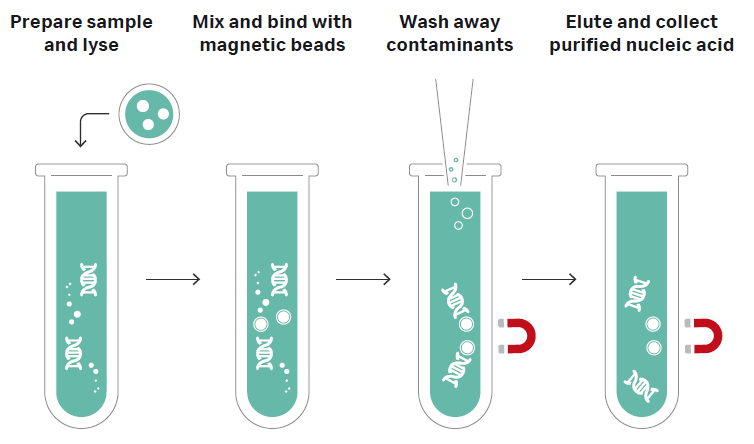 Fig 2. Nucleic acid extraction workflow with Sera-Xtracta Virus/Pathogen Kit.
Want More?
Sign up for the GSS Resources Newsletter, an eNewsletter that delivers new technology and news, straight to your inbox.
Government Scientific Source (GSS) is the leading dedicated distributor of laboratory products and equipment to federal, state, and local governments.
ISO 9001:2015 Certified
Copyright 2020, Government Scientific Source. All Rights Reserved.
SUBSCRIBE
to our newsletter to stay in touch with our latest deals
|