Hamilton Process Analytics Bioproduction Sensors and Probes
Sensors and Probes More Widely Available Through GSS
Hamilton Company is pleased to announce a new partnership with Government Scientific Source to increase availability of our products on the GSA Advantage! web portal.
Unique to this event is the new level of access to our Process Analytics solutions for our government and industrial customers. With the increased demands of the FDA's PAT initiative, Operation Warp Speed, and BARDA projects, we anticipate this improved accessibility will help streamline the acquisition of vital tools and technology. We are passionate about supporting the development of new pharmaceuticals and vaccines across the entire bio-production workflow; including R&D, pilot studies, and production efforts.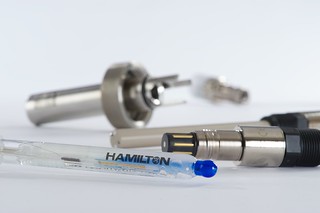 Hamilton's measurement tools provide valuable, in-line monitoring of pH/ORP/redox, dissolved oxygen, and conductivity in both upstream and downstream processing. Not only do we seek to provide the highest quality of real-time data to our customers, but also improve how they can access, analyze, and automate their controls off of it. Our technology supports simple bio-production at the benchtop level, all the way through cGMP production with complimentary reporting to meet regulatory requirements.
Hamilton sensor products are highly configurable, allowing for multiple process connections (S8, K8, VP6), Arc (VP8), or Memosens. Other configurable options include pH glass types, sensor length, and sensor output. In addition, Hamilton offers a wide variety of sensor accessories like cables, transmitters, buffers, and replacement parts.
To achieve the highest results using Hamilton products, it is highly recommended that you consult with a regional sales engineer who can help with product selection and ordering.
Want More?
Sign up for the GSS Resources Newsletter, an eNewsletter that delivers new technology and news, straight to your inbox.
Government Scientific Source (GSS) is the leading dedicated distributor of laboratory products and equipment to federal, state, and local governments.
ISO 9001:2015 Certified
Copyright 2020, Government Scientific Source. All Rights Reserved.
SUBSCRIBE
to our newsletter to stay in touch with our latest deals
|