RNA Extraction-Free QSanger: COVID-19 Test Kit
Test to Capacity with Swift Biosciences
Swift Biosciences, a leader in Next-Generation Sequencing Manufacturing & Technology, is providing exclusive access to the BillionToOne RNA extraction-free qSanger™: COVID-19 Test Kit.
The test is designed to detect the virus that causes COVID-19 in respiratory specimens obtained from nasal swabs, nasopharyngeal swabs, or oropharyngeal swabs and enables high capacity testing of up to one million tests per day.
RNA extraction-free qSanger™: COVID-19 Test Kit for +/- results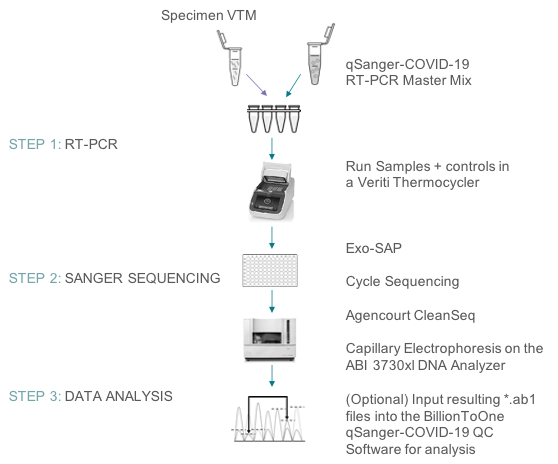 The BillionToOne COVID-19 test uses different sets of instruments and chemicals from existing COVID-19 tests, enabling labs to unlock a new set of unused capacity. The BillionToOne test sequences the virus' genome – making the test sensitive, specific, and accurate compared to other COVID-19 tests on the market.  Most notable, this test does not require RNA extraction which is costly, time-consuming, and will not be negatively affected by critical supply chain demands due to flu season.
Additionally, the test is easily adaptable for any clinical lab with Sanger Sequencers and requires minimal training. Each qSanger™: COVID-19 Test Kit contains 2,000 reactions made up of reverse transcriptase, polymerase, sequencing primers, and assay control.
Other test kit sizes also available. Please contact us for more information.
ACCURATE & SCALABLE
20X higher throughput, Sanger instrument can perform nearly 3,000 tests per day, versus just 200
tests using other methods
High detection of SARS-CoV-2 RNA
EFFICIENT & CONVENIENT
RNA extraction-free assay, saves time to results
Quick diagnostic method for symptomatic patients
Enables faster clinical intervention
Avoids supply chain bottlenecks
ACCESSIBLE TO ALL
Easily adoptable to any clinical labs
Minimum training required
Want More?
Sign up for the GSS Resources Newsletter, an eNewsletter that delivers new technology and news, straight to your inbox.
Government Scientific Source (GSS) is the leading dedicated distributor of laboratory products and equipment to federal, state, and local governments.
ISO 9001:2015 Certified
Copyright 2020, Government Scientific Source. All Rights Reserved.
SUBSCRIBE
to our newsletter to stay in touch with our latest deals
|